Service & Charity Work Within Our Community
We're committed to helping our neighbors throughout the Southeast region!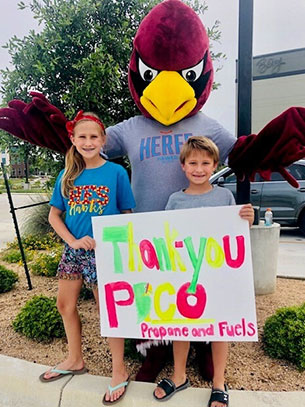 Pico Propane and Fuels serves communities large and small. This stretches from Louisiana's Gulf Coast region through Texas, and into eastern New Mexico. At the core of our work is treating our customers as our neighbors.
That commitment also extends to service in our communities. Pico locations support a wide range of organizations and causes.
Who has Pico been able to help over the past calendar year?
Pico Propane and Fuels received a special "Thank You" from the Boerne Education Foundation for their support in the I Give Annual Campaign. This benefitted the Boerne Independent School District.
Our Boerne Pico location were top sponsors for the local 2019 Back the Badge 5K event. This was the 5th Annual Fundraiser benefitting Kendall County Law Enforcement Officers.
The Kenedy Pico location partnered with their local H-E-B to provide food and basic hygiene supplies to the Alta Vista Senior Living Center. This took place when supplies were tight during the early days of the COVID-19 pandemic.
The Del Rio Pico location Pico location donated a total of $2,500 to local food banks to help support ongoing COVID-19 pandemic relief.
In Carizzo Springs, the folks at our location there partnered with the local H-E-B to help stock the shelves of their local food bank. They also donated $1,000 in gift cards!
The Weslaco Pico location are continued supporters to the Food Bank of the Rio Grande Valley.
The Uvalde Pico location helps provide meals and essential items for the South Texas Food Bank and Loaves & Fishes of Val Verde.
Our Pico employees are involved on their own in service in their communities as well. This ranges from youth sports, to arts organizations, to providing meals to senior citizens. We're proud of all they do for the neighbors we serve!