How Much Propane Is Left in My Tank?
Written on: August 1, 2022
Wireless Propane Tank Monitors Eliminate the Guesswork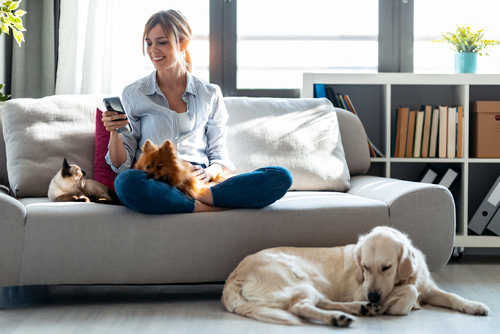 Customers who experience a propane runout know what a hassle it can be. First, there's the cost of an emergency fill-up, as well a leak test for safety. And even if your tank isn't completely empty, you can experience problems, too. When propane levels get too low, air can get into your system, which can lead to expensive damage down the line.
Whenever these situations occur, folks always ask us if there's an easier way to know how much propane is in their tank. Watching the gauge on the tank is one way to do it—but you must remember to look frequently—and you can still get caught with a near-empty tank if you use more than usual or simply forget to check the level.
One option is our Keep Full automatic delivery service. But automatic deliveries aren't the best solution for everyone. If your propane usage isn't consistent, we can't use our algorithm to best predict your needs. Many of our customers travel often or are managing a rental property or Airbnb—which means their propane use is practically unpredictable. And it's exactly why they appreciate the real-time accuracy of our wireless propane tank monitoring service!
How Does a Wireless Propane Tank Monitor Work?
Wireless tank monitors track the level of propane in your tank in real-time and transmit your usage via wireless cellular technology. When the tank gauge reaches a pre-set level of approximately 25% full, the monitor alerts us—and you—directly via a mobile app or email.
In addition to timely alerts, the app gives you even more control and insight! You can use it to easily track your monthly energy consumption—and save on energy costs—or to take the guesswork out of knowing when to order fuel. This is especially useful if you're ordering propane for a second home or rental property to avoid an unwelcome situation for your guests.
Interested in a Wireless Propane Tank Monitor? Call Pico Today!
With our convenient wireless tank monitoring service, you'll never have to wonder, "How much fuel is in my propane tank?" ever again! A tank monitor eliminates the guesswork, as well as the inconvenience and the expense of an empty tank. This handy device is useful for both homeowners and businesses alike.
A wireless tank monitor is easy to install, and we can have you ready to go in a matter of minutes! Contact us today to find out more about the added benefits of wireless tank monitoring and how we can get you set up—100% hassle-free.