Propane Water Heater Installation, Sales and Service in Texas & New Mexico
Enjoy a reliable hot water supply with better energy efficiency.
Most of the time, we take our hot water for granted. Then the water heater breaks down, which we find out the hard way when we step into a cold shower. If you're looking to replace your home's water heater, turn to Pico Propane and Fuels for a great supply of propane water heaters. We offer units from top manufacturers such as Rinnai® and Navien—with both tanked and tankless models available.
When should I switch to a propane powered water heater?
The best answer to that question is: Before you're forced to by your old water heater failing. If you upgrade to a new water heater now, you have the chance to explore all of your options and take time to make the right choice for your home and family, rather than settling for whatever you find because you need a water heater right away.
Another benefit of a propane water heater is energy efficiency. Heating water makes up about 20% of your home's energy usage. Propane water heaters are much more energy efficient than their electric counterparts.
Is it worth upgrading to a tankless water heater?
More and more of your neighbors are discovering the benefits and money savings that go with a propane tankless water heater.
Tankless water heaters provide endless hot water, on demand. No more waiting between showers for the water to reheat. Want to shower while the dishwasher is running? No worries!
With tankless water heaters, you can save up to 40% on your water-heating energy costs. That's because your water heater isn't heating and reheating a tank of water all the time when no one is using hot water. Also, tankless water heaters have an average life expectancy of 20 years, about twice as long as water heaters with a tank.
Pico can help take care of everything from sales, to installation, and ongoing maintenance.
Whenever you're ready for a new water heater, Pico Propane and Fuels can take care of you! We start with helping you choose the right water heater for your home, taking certain factors into consideration, such as the size of your home, how many appliances use hot water, how many bathrooms you have, the size of your family and your hot water needs.
Our skilled, experienced and certified service technicians will expertly install it to our high standards of getting the job done right the first time, and respecting your home and your time by showing up when we're supposed to and cleaning up when we're done.
With us, you'll get get safe, reliable propane delivery, and options such as Keep-Full automatic delivery and propane tank installation and leasing too!
Propane Water Heaters—The Perfect Upgrade for Your Home!
Interested in upgrading? Take a look at our catalog of Rinnai® products!
Get endless on-demand hot water, space savings, eco-efficiency and peace of mind from the world's most reliable tankless gas water heater brand. Whether you need a residential water heater or commercial water heater, a Rinnai® tankless water heater will meet your needs.
HIGH EFFICIENCY (HE)
Non-Condensing
V Model Series
Confidence Meets Affordability
Our high-efficiency V Models are the right combination of comfort and value. These compact units offer the reliability you'd expect from Rinnai with performance that's ideal for small to medium-sized new homes or remodels.
To find out specific details on these Rinnai products and their various models, please contact us.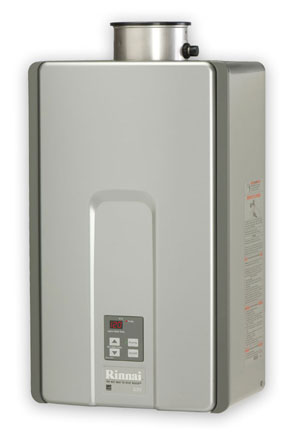 RL Model Series
Advanced Technology Meets Affordable Efficiency
Rinnai's high-efficiency plus RL models, offer Rinnai's most advanced technology in non-condensing tankless water heaters. You'll enjoy the endless hot water and energy savings you expect, with the addition of wi-fi monitoring and recirculation technology for faster hot water delivery.
To find out specific details on these Rinnai products and their various models, please contact us.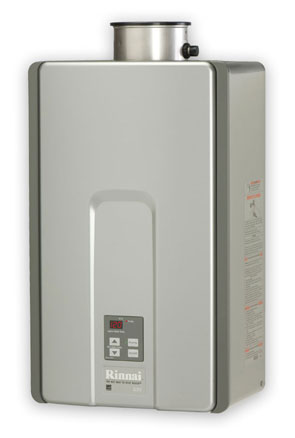 RLX Model Series
Advanced Technology Brings Low NOx To An Affordable Solution
Our high efficiency plus, non-condensing tankless water heater technology is at your finger tips. Not only are the RLX models low NOx emitting, but there is wi-fi monitoring and recirculation technology available today at a price that fits your budget.
To find out specific details on these Rinnai products and their various models, please contact us.
SUPER HIGH-EFFICIENCY (SE)
Condensing
Contact us today to find out more about our available selection of water heating equipment available nearest your area!