Propane Appliance Options for Your Home
Written on: May 16, 2022
Your One-Stop Resource for All Things Propane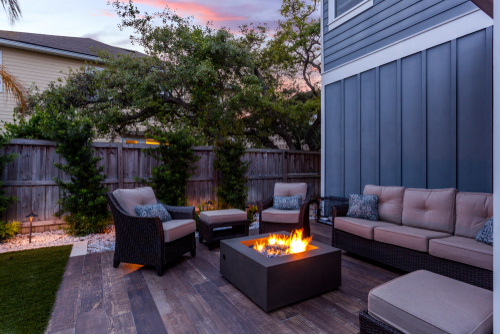 Are you busy shopping for new residential propane appliances? If so, you're making a great choice! What's even better? You have a wide array of options to choose from. Energy-efficient propane appliances include clothes washers and dryers, dishwashers, water heaters, ovens and ranges, outdoor lighting, patio heaters, pool, and spa-tub heaters, outdoor grills and indoor and outdoor fireplaces, log sets, and vent-free heaters…not to mention backup generators, too! Plus, propane heats quickly and burns cleanly, for a smaller carbon footprint than oil or electricity and great value.
So, if you're looking to enhance the value and improve the efficiency of your Texas home with propane appliances, come by our Bergheim showroom today to see all your options, and talk to our knowledgeable staff.
Propane Products We Offer
We Offer Top Name Brands Like Navien®, Generac, and Hestan®—Plus Turnkey Propane Home Solutions!
Water Heaters: Water heating makes up a sizeable percentage of home energy bills—especially when you consider how much hot water a household uses between bathing, laundry, and dishwashing. An energy-efficient propane water heater can help you reduce your energy costs and perform better than electric-powered counterparts, too. Tankless water heaters save energy by instantly heating water when you need it, rather than keeping a large tank hot all the time. As a result, you can enjoy virtually unlimited hot water…while seeing savings of up to 40%!
Cooking and Grilling: Nothing beats the precision and control you get cooking with propane gas. That's why it's the first choice of professional chefs in the kitchen and on the patio. We carry leading brands for your indoor and outdoor cooking spaces, including Bertazzoni and Hestan.
Outdoor Living: Adding safe and efficient propane patio heaters can extend the summer season while gas lighting creates a welcoming area to entertain friends and family, and fire pits and fire bowls become an attractive focal point and gathering space for your outdoor living area.
Indoor Fireplaces: A propane fireplace brings all the ambiance and warmth of a wood-burning fireplace to any room, without the mess, smoke, and ash. And unlike a traditional fireplace, you can install a propane-fueled fireplace just about anywhere: a living room, dining room, bedroom, even the kitchen. Imagine the luxe, spa-like glamour of a fireplace right in your master bath!
Generators: When storms knock out power, a propane-fueled backup generator will keep your lights on, your refrigerator running and everything else powered up until the utility companies can make repairs.
Interested in a Particular Propane Product?
Whether you're building a new home, updating your current home, or even if you're a commercial builder, the knowledgeable team at Pico's appliance showroom can help you with information and advice. When you're ready, our trained and experienced service technicians provide installation, maintenance, and repair services. We've got all your needs covered.
Contact us for more information or stop by and visit us today.