Propane Appliances to Transform Your Backyard Space!
Written on: September 20, 2021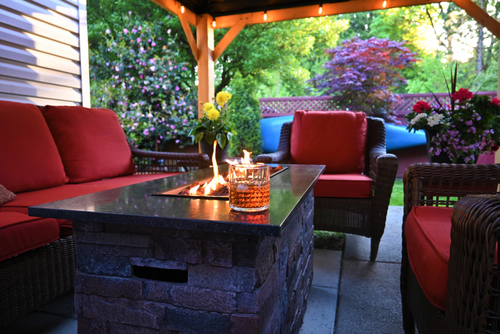 There's no place like home—especially in your backyard—amid the scents of a freshly barbecued feast, or within the warmth of a crackling fire pit or comforting patio heater, surrounded by family, friends, and laughs. If these are the exact scenarios you're longing for this upcoming season, Pico Propane & Fuels is here to make it happen!
Our New Showroom Has It All!
If you live in Texas, you well know that spending time in the great outdoors is one of the area's major perks. As we've already mentioned, what better place to start relishing the outdoors than your own backyard? It's why Pico Propane & Fuels is thrilled to announce the opening of our propane appliance showroom, where you can find dazzling outdoor living appliances like standalone and built-in propane grills, fire pits, and patio heaters and more to enhance your backyard spaces!
Opening on Thursday, October 14th, you can stop by and see us at 843 State Highway 46 E, Bergheim, TX 78004. You can also give us a call at 844-427-7426 to hear about our full selection of propane-powered products! We'll also offer a propane cylinder exchange and refills right nearby, too.
Unable to make it opening day? Let's get you familiar with all we have to offer:
Thrill of the Propane Grill
An argument can be made that most foods are made better by an open fire, and we can help you get there without the mess and hassle of a charcoal grill—whether it's with a freestanding or built-in unit. Propane grills are easy to start, heat up swiftly, and hold a steady temperature. Propane systems also offer the chef flexibility, with their multi-zone and indirect heat options. Do you find the cleanup a drag? With propane, all you need to do is give the grill a quick grate scrub and you're all set.
Propane units also boast versatility with accessories, with everything from side burners to storage drawers. You'll be master of your outdoor kitchen, and you'll also save a few bucks on your home utility bills, too!
S'mores by the Firepit
Propane firepits are an essential piece to your backyard nirvana. Nothing beats the warmth of sitting around with family and friends without the hassles of lighting a fire, the messy cleanup of soot and ash, fretting over embers landing in the yard, and worse. Additionally, it's well-known that wood-burning fire pits are also not great for the environment—or your health. Trees absorb a variety of man-made air pollutants, resulting in a release of concentrated toxins when the wood is burned.
But at the flip of a switch, you have a real flame with real warmth, and when you're done, shutoff is just as easy! Propane units also save you space in your yard. There's no need for that big old woodpile taking up prime real estate. Propane fire pits are also available in a variety of shapes and styles, with the opportunity to add a little zen to your backyard.
Propane Water Heaters Keep the Hot Water Flowing
Hot water is essential for our daily living and comfort. From hot showers in the morning to those relaxing baths before bed, from washing your clothes to doing the dishes, a reliable supply of hot water just makes your life easier—and today's tankless propane water heaters deliver on that need—on-demand—while offering dependability, value, and greener solutions you will love!
We carry a line of top-quality Rinnai and Navien products, giving you the benefit of some of America's top appliance brands paired with our world-class service!
Stay Safe with a Propane-Powered Backup Generator
Whether the cause is a hurricane, thunderstorm, ice storm, or downed power lines when you lose power at your home, it's not only inconvenient, but it can also be hazardous. But if you and your family are stuck in the dark, you don't have to stay there long when you have a propane-powered, whole-house backup generator from Generac installed by the equipment experts at Pico!
While portable propane generators are fine for some things, a propane whole-house generator does much more, with better safety and efficiency! More appliances, electronics, and equipment are powered, meaning that you can live comfortably through the outage.
Warm Up on the Patio
Finally, patio heaters can warm a cool buzz in the air by up to 30 degrees, allowing you and your family or guests to warmly, comfortably relish better times in your outdoor space.
Pico Propane and Fuels is one of the Boerne area's top resources for propane appliances—and our team of professionals is ready to help you discover all the benefits of expanding your use of propane at your nearby home! To learn more, contact us and request additional details about our available product offerings and service territory.