Propane Grilling Safety Tips
Written on: July 18, 2022
How to Keep Summer BBQs Safe and Fun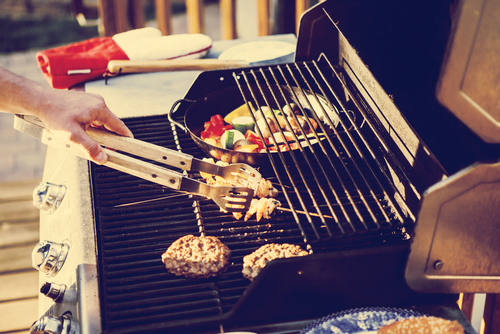 It's peak grilling season here in Texas! Enjoy great times outside with family, friends, and delicious food. Be sure to keep these safety tips in mind next time you fire up your propane grill:
Keep your propane grill at least six feet away from your home on sturdy and level ground.
Never leave the grill unattended.
Check all hoses and connections for leaks before operating the grill. 
Never light a gas grill with the lid closed—Open the lid before turning on the gas at the tank. If the grill doesn't light after a couple of clicks, turn off the burner, turn the gas off at the tank, and wait 5 or 10 minutes before attempting to light it again. 
Make sure to keep your grill lid accessible to extinguish small flare-ups. It's also a good idea to portable fire extinguisher or baking soda on-hand. 
NEVER attempt to extinguish a grease fire with water!
Never attach or disconnect an LP tank or adjust fittings while the grill is operating. If you run out of gas while grilling, turn off all the burners, reconnect the new tank, and re-light. When you finish grilling, shut the gas valve, and disconnect the LP couplings before storing the grill. 
Transporting a Portable Propane Cylinder? Be Sure to Do It Safely
Transport it upright (valve on top) in a secure position to prevent rolling.
Close and plug the cylinder valve.
Place the cylinder in a well-vented area inside the vehicle.
Don't leave the cylinder in a hot vehicle; go straight to your propane dealer and straight home when you pick it up.
Pico Propane and Fuels has convenient locations across Texas and New Mexico to refill or exchange your portable cylinder. Having a spare means the grilling never has to end due to an empty tank!
Still using that clunky old charcoal grill? Make the switch to a propane grill and enjoy instant start-ups, no chemical fumes, and precise temperature control.
Stop by our Bergheim showroom or contact us today for more information.