Propane Delivery in Lumberton, Texas
Pico meets the heating needs of Hardin County, TX households!
When families and businesses in Lumberton and throughout the Gulf Coast region of Texas need dependable propane delivery, they turn to Pico Propane and Fuels. Our top-notch team always gets you the fuel you need quickly and safely. We offer two easy and convenient options for receiving your propane: Keep-Full Automatic Delivery and our 1–2 day Will-Call delivery. Whichever option you choose, Pico is here to answer the call.
Our Local Office:
6315 TX-347
Beaumont, TX 77705
409-257-7525
Hours:
Monday: 8:00 a.m. – 5:00 p.m.
Tuesday: 8:00 a.m. – 5:00 p.m.
Wednesday: 8:00 a.m. – 5:00 p.m.
Thursday: 8:00 a.m. – 5:00 p.m.
Friday: 8:00 a.m. – 5:00 p.m.
Saturday: Closed
Sunday: Closed
Pico Propane and Fuels offers a range of services, including: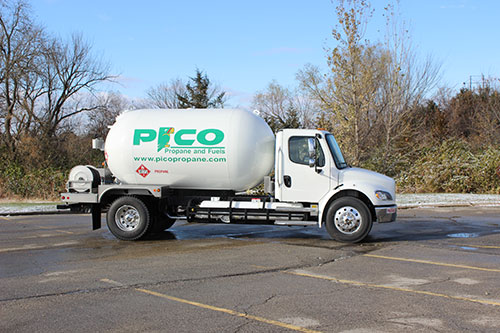 Are you familiar with Lumberton, TX?
Lumberton was established in the mid-1800s as a stop on the Gulf, Beaumont and Kansas City Railway. As the name suggests, the community catered to local sawmills and lumber camps for many decades. In 1973, Lumberton was incorporated as a city.
Here are some of Lumberton's top attractions:
Village Creek State Park offers camping, kayaking and beautiful encounters with nature.
The Village Creek Festival is held every October and features arts and crafts, food, rides and live music.
Freedom Park is located by Lumberton City Hall and is dedicated to America's servicemen and women.
Lumberton City Park is the city's newest park, a 100-acre facility for biking, hiking, barbecuing, volleyball and disc golf!
What can you expect as a Pico customer?
We know you have choices when it comes to your home propane and equipment services. But Pico Propane and Fuels consistently outshines our competition in Hardin County — these are our commitments to you as a Pico customer:
Guaranteed best pricing on propane home delivery.
Industry-certified technicians.
Around-the-clock emergency response.
Flexible payment options.
Convenience when paying your bills online.
Fast, friendly, courteous customer service.
Over 500 5-Star Reviews!
"Thank you so much for being there when I needed you the most and having reliable people you can depend on to help me out in a time of need in this horrible cold weather. Great service and low prices. Merry Christmas and God bless." – Rosa G.
"Pico Propane always has the best rates. I have called them last minute on several occasions, and they have accommodated me quickly. Daniel is always friendly and treats me like a friend instead of a customer." – Ashlea
"Absolutely love Pico Propane; employees have all been very kind, knowledgeable, efficient and courteous. Our entire neighborhood switched to Pico and could not be happier. Highly recommend Pico to anyone looking for propane." — Krystal C.
We want to provide your Lumberton household with reliable propane delivery. Reach out to us today to become a customer!