Propane Delivery and Services in Midland, TX
West Texas can count on Pico Propane and Fuels all year long.
Why are so many folks in the Odessa area and its neighboring communities becoming Pico Propane and Fuels customers? Because we offer reliable propane deliveries all year-round with fair, transparent pricing with no hidden fees or bait-and-switch tactics.
Pico Propane and Fuels:
701 W 1st St
Odessa, TX 79761
432-278-1655
Hours:
Monday: 7 a.m. – 5 p.m.
Tuesday: 7 a.m. – 5 p.m.
Wednesday: 7 a.m. – 5 p.m.
Thursday: 7 a.m. – 5 p.m.
Friday: 7 a.m. – 5 p.m.
Saturday: Closed
Sunday: Closed
What are some of the services Pico Propane and Fuels offers?
Pico Propane and Fuels provides local, reliable Propane Delivery to the the West Texas region, including Odessa and Midland! What's even better? We'll get you set up on our hassle-free Keep-Full automatic delivery plan, so you never have to worry about a propane runout again.
Customers love our Wireless Propane Tank Monitoring! With this service, our monitor is attached to your propane tank and keeps track of exactly how much propane is in your tank at all times. It then uses Wi-Fi and cellular technology to continually send that information directly to us!
Need a new Propane Tank installed at your home our business? We have the knowledge and experience to make sure that you get the right size of tank, and that it is installed safely in line with all applicable regulations.
Whether your business is large, small or somewhere in-between, we will provide you with top quality Commercial Propane Services perfectly tailored to your operational needs.
Pico has the expertise and experience to provide a Customized Commercial Cylinder Exchange Service to keep your forklift fleets running strong!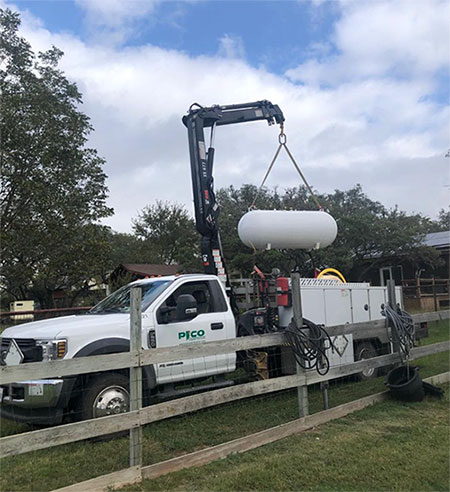 Why should I switch to Pico Propane and Fuels?
With our extensive experience as a local, hometown business, we offer personal, prompt and courteous propane delivery and services that no national brand can match. This includes the installation of propane tanks and gas lines for residents and businesses in West Texas—as well as bulk supply and delivery of numerous other refined fuels! We'll stand out above the competition with:
Experienced, courteous delivery drivers who show up on time.
Payment options that make it easy to manage your account.
Prompt and considerate customer service by people right here in the community, not at some far-off call center.
If you're ready to add propane appliances to your home, or to upgrade your current ones, we can help you get rebates—this is available to ALL Pico customers!
West Texas is Pico Propane and Fuels country!
Welcome to West Texas! Odessa got its start in 1881 as a water stop and cattle-shipping point on the Texas and Pacific Railway.
Today, it boasts a diverse economy ranging from oilfields to government to health care. Both the University of Texas and Texas Tech systems have campuses in Odessa. Odessa became famous nationally thanks to the H.G. Bissinger book Friday Night Lights. A movie, starring Billy Bob Thornton, was based on it.
It also inspired the popular, beloved TV series Friday Night Lights, starring Kyle Chandler and Connie Britton.
What do customers say about Pico Propane and Fuels?
"Really helpful service men took care of my project. They went the extra mile to make sure things were done properly. Thanks, Pico" – Erik S.
"Great customer service, fast response and even offered advice with my tank. Very helpful!" – Devon S.
"Where to get the best propane for your grill? Pico Propane and Fuels in Odessa that's where!" – Patricia G.
Get reliable propane delivery and service from Pico Propane and Fuels. Become a customer today and experience the difference we can make for your local home or business. We're the company you can keep for life!