Propane Delivery in Greater San Antonio, TX
Pico Propane and Fuels is the go-to for all thing propane in Boerne, Bulverde, Canyon Lake, and nearby communities in Texas.
Looking for a new propane provider, or new propane home appliances? Pico Propane and Fuels is the local propane delivery and service provider your neighbors in the San Antonia area know that they can trust for reliability, quality work, and great prices.
Pico Propane and Fuels:
303 Ebner St.
Boerne, TX 78006
210-899-7889
Hours:
Monday: 8 a.m. – 5 p.m.
Tuesday: 8 a.m. – 5 p.m.
Wednesday: 8 a.m. – 5 p.m.
Thursday: 8 a.m. – 5 p.m.
Friday: 8 a.m. – 5 p.m.
Saturday: Closed
Sunday: Closed
What Services Does Pico Propane and Fuels Offer?
Pico Propane and Fuels provides local, reliable Propane Delivery to communities all around the San Antonio area. What's even better? We'll get you set up on our hassle-free Keep-Full automatic delivery plan, so you never have to worry about a propane runout again.
Customers love our Wireless Propane Tank Monitoring! With this service, our monitor is attached to your propane tank and keeps track of exactly how much propane is in your tank at all times. It then uses Wi-Fi and cellular technology to continually send that information directly to us!
Need a new Propane Tank installed at your home our business? We have the knowledge and experience to make sure that you get the right size of tank, and that it is installed safely in line with all applicable regulations.
Whether your business is large, small or somewhere in-between, we will provide you with top quality Commercial Propane Services perfectly tailored to your operational needs.
Pico has the expertise and experience to provide a Customized Commercial Cylinder Exchange Service to keep your forklift fleets running strong!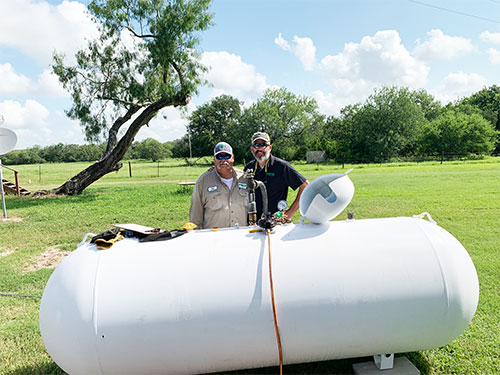 Visit our Bergheim Showroom today!
Whether you're looking for comfort, security or fun, you'll find it with the wide array of propane appliances and fire features available at the all-new Pico Propane and Fuels Showroom in Bergheim, TX!
Today's propane appliances are not only practical and energy efficient, they're also perfectly suited for homes of all shapes and sizes. We offer a wide range of top-quality propane appliances from some of the best manufacturers, including:
Gas Logs
Fire Pits & Fire Bowls
Patio Heaters
Tankless Water Heaters
Gas Fireplaces
Gas Lamps
Backup Generators
Gas Grills
Gas Ranges
Local residents love Pico Propane and Fuels services!
"Pico's service and communication was fantastic. They were reliable, gave us timelines, and stuck to their word." – Rob W.
"Pico really helped me out in a pinch. Woke up to an empty tank on Sunday morning (not the first time — we previously had a different propane provider). Called Pico and they were at my house in about two hours to take care of me — on a Sunday! The service tech was over-the-top polite and knowledgeable. She also installed a remote monitor — so it will never happen again (great phone app to go with it). They are bringing some great technologies to an otherwise archaic industry. Very happy new customer here. I wouldn't hesitate to recommend them." – Patrick L.
Get reliable propane delivery and service from Pico Propane and Fuels. Become a customer today and experience the difference we can make for your home or business in Boerne, Fair Oaks Ranch, Timberwood Park, and the greater San Antonio area.