Propane Delivery in Santa Fe, New Mexico
For local, reliable service… count on Pico Propane and Fuels!
Pico Propane and Fuels is the propane delivery and service provider your neighbors in Santa Fe know that they can trust for reliability, quality work, and courtesy.
Pico Propane and Fuels:
7717 Broadway Blvd. SE
Albuquerque, NM 87105
505-717-0777
Hours:
Monday: 8 a.m. – 5 p.m.
Tuesday: 8 a.m. – 5 p.m.
Wednesday: 8 a.m. – 5 p.m.
Thursday: 8 a.m. – 5 p.m.
Friday: 8 a.m. – 5 p.m.
Saturday: Closed
Sunday: Closed
What Services Does Pico Propane and Fuels Offer?
Pico Propane and Fuels provides local, reliable Propane Delivery to the Greater Albuquerque area, including Santa Fe! What's even better? We'll get you set up on our hassle-free Keep-Full automatic delivery plan, so you never have to worry about a propane runout again.
Customers love our Wireless Propane Tank Monitoring! With this service, our monitor is attached to your propane tank and keeps track of exactly how much propane is in your tank at all times. It then uses Wi-Fi and cellular technology to continually send that information directly to us!
Need a new Propane Tank installed at your home our business? We have the knowledge and experience to make sure that you get the right size of tank, and that it is installed safely in line with all applicable regulations.
Whether your business is large, small or somewhere in-between, we will provide you with top quality Commercial Propane Services perfectly tailored to your operational needs.
Pico has the expertise and experience to provide a Customized Commercial Cylinder Exchange Service to keep your forklift fleets running strong!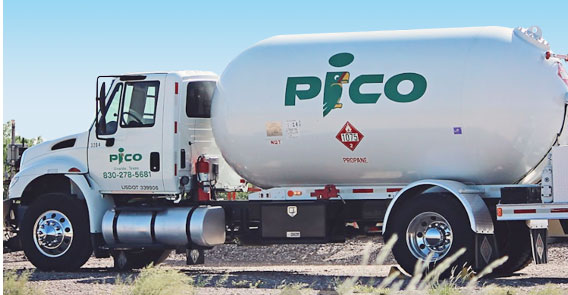 Santa Fe: Located at the heart of New Mexico!
What is now Santa Fe was originally home to Tanoan, Tewa, and Pueblo indigenous peoples. The first attempt at colonizing the area was in 1568. It was settled in 1607 by Spaniards and was declared the capital of the province, making it the oldest of the U.S. state capitals. New Mexico was named America's 47th state in 1912.
Santa Fe became a magnet for artists and writers drawn by natural beauty and affordable living. That affordable living later drew retirees to the area as well. Tourism is one of Santa Fe's major industries, with attractions including the city's many museums and unique architecture.
Notable natives and residents of Santa Fe include:
The artist Georgia O'Keefe, a leader in the American Modernism movement
The actor Gene Hackman, who won Academy Awards for Best Actor (The French Connection) and Best Supporting Actor (Unforgiven)
Robert Redford, the star of films including All the President's Men and Butch Cassidy & the Sundance Kid, who won an Academy Award for Best Director for Ordinary People
Shirley MacLaine, who won an Academy Award for Best Actress for her performance in Terms of Endearment
The fashion designer Tom Ford, who served as the creative director at Gucci and Yves St. Laurent before launching his own brand
The actress Greer Garson, best known for her performance in Mrs. Miniver
The writer George R. R. Martin, author of the Game of Thrones series
The actress Anna Gunn, who won two Emmy Awards for her role as Skyler White, the wife of Walter White in the TV series Breaking Bad
It's True—Santa Fe loves Pico Propane and Fuels!
"I ordered propane for my home and Pico staff arrived the next day to test my system and fill the tank. This service is extremely fast and efficient, with a knowledgeable, safety-oriented staff, and an excellent price on top of it all. I highly recommend them!" – Chris B.
"I recently changed my propane company to Pico after doing an extensive check on the company. I have had great service and I appreciate being able to talk to a person every time, not a machine. When Ted came to switch out my tank, he was professional and explained everything he was doing. He said, "I will make sure you are safe and everything is working properly before I leave." I felt a great sense of relief. I am glad I made the change. If you are tired of waiting to get serviced by your propane company or tired of talking to a machine, call Pico right now!" – Marie M.
Get reliable propane delivery and service from Pico Propane and Fuels. Become a customer today and experience the difference we can make for your home or New Mexico home or business.