Check Out Our New Showroom!
Written on: December 13, 2021
Locally Selling and Installing Propane-Powered Appliances in Boerne, Spring Branch, and Nearby Communities.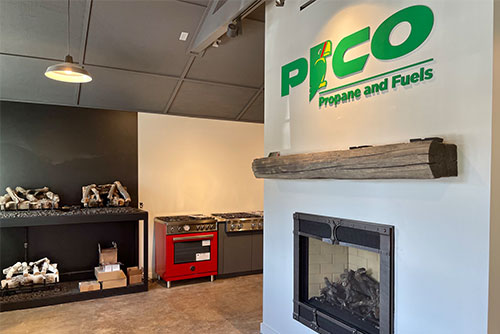 If you're in the Hill Country north of San Antonio and looking to add propane appliances to your home, Pico Propane and Fuels is here to help with our showroom in Bergheim, TX, located at 843 Highway 46! Our new showroom location provides local purchase and installation services.
Pico's showroom offers propane appliances of outstanding quality from leading manufacturers like Generac, Rinnai, Bertazzoni, Hestan, Navien, DaVinci Custom Fireplaces, Grand Canyon Gas Logs, and many more!
You can browse and get information and advice from our propane appliance experts. Once you make your selection, our trained and experienced service technicians provide installation, maintenance, and repair services. We'll take care of you from start to finish—and well beyond!
Propane Appliances Provide Efficiency, Comfort, and More!
Water Heaters. Water heating accounts for 20% of the energy usage in your home. Propane's efficiency is dramatically better than electricity's, something you will notice in your energy costs from day one. In fact, a propane tankless water heater can cut your water heating energy costs by 30% or more!
Propane Ranges. There are reasons that restaurant and celebrity chefs cook with gas. It provides precise, on-a-dime temperature control no electric range can match. That precision and speed can make the difference between a juicy steak and boot leather. The heat in a propane oven is moister than an electric one, helping to keep the holiday roast juicy.
Grills. Propane is widely used in grills in the United States, with around 80% of them relying on it. There are several excellent reasons for this! Propane is simple to use, convenient, clean-burning, and doesn't require the same amount of effort or dirty cleanup as grilling with charcoal. Our showroom offers top-quality grills in a range of sizes, with features including side burners, smoker boxes, rotisseries, and more!
Patio Heaters. Enjoy dining al fresco or nighttime cocktails outside even when there's a chill in the air with the convenience of a propane patio heater—perfect for helping create a comfy, cozy backyard oasis.
Firepits and Fire Bowls. Create a perfect spot to hang out with family and friends, or a place to relax with a beer after work, with a stylish propane fire pit or fire bowl that becomes a centerpiece in your backyard.
Gas Fireplaces and Gas Logs. Get the cozy comfort of a fire in the fireplace without a bit of work. Just push a button and relax with your favorite beverage and a good book!
Generators. Portable generators are great for small power needs, like for a workshop or shed. Want to provide security and comfort for your whole home? A propane whole-house backup generator keeps the lights on, the food safely cold, home medical equipment operating, and electronics charged.
Are You a Local Builder or Contractor?
Undertaking a new home build or renovation? We provide services for you, too. Our equipment professionals will thoroughly go over the needs for your project and can make sure you have the best propane appliances for it—all at great prices.
Come on over to our Bergheim showroom today to see our outstanding selection of propane appliances—and learn more about how they can make life in your home so much better.
Pico Propane and Fuels is one of Texas and New Mexico's top resources for propane appliances—and our team of professionals is ready to help you discover all the benefits of expanding your use of propane at home! Come visit our showroom to learn more or contact us to request additional details about our product offerings.