14 Reasons To Install A Propane Generator
Written on: February 20, 2023
Is Your Home Prepared Ready for Outages or Extreme Weather?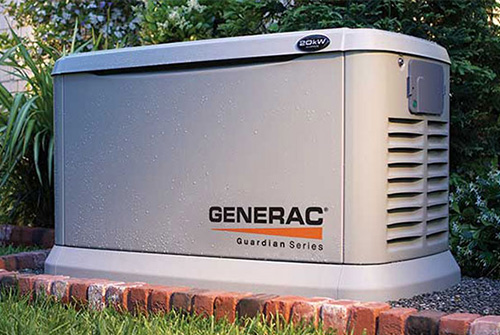 When the weather gets wild and power lines go down…are you prepared? After all, Texas, and New Mexico each get their fair share of thunderstorms in summer. This comes alongside hurricanes on the Gulf Coast, and, more frequent lately, stretches of extreme cold that challenge the electrical grid. Each of these are contributing factors that are leading to a big increase in generator installations across the region.
Why Choose a Propane-Powered Generator?
Installing a whole-house propane generator truly is a power move when it comes to protecting your family and your property. Also called stand-by generators, they are connected right to your home's energy supply, so they go on within seconds of a power failure—even if you're not home.
Here are 14 great reasons to protect your home and family with a whole-house generator powered by propane gas:
You can opt for "essential power" models that will run select, essential equipment such as your refrigerator, heat and a few lights, or a specific part of your home, like the kitchen. You can also choose a larger, whole-house generator that can manage the demands of most 2,500+ sq.ft. homes, even during extended outages.
An average 5000-watt stand-by generator will run for one to two days on a 100-gallon propane tank. A 500-gallon tank would keep the same generator running for 7 to 10 days. If you're interested in installing a generator of your own, we're able to help find you the perfect propane tank to coincide with it!
Propane generators are quiet, extremely efficient, and clean burning, with low emissions.
A stand-by generator keeps security systems on to protect your property even if no one is home.
Essential, in-home medical equipment keeps running in case of an emergency.
Power for your heat or air conditioning, water, lights, stove, and refrigerator mean you can shelter in place during an extended outage.
Did you know having a back-up generator can lower home insurance costs? Many insurance plans will offer discounts on your homeowner's insurance plan if you install a standby generator.
Refrigerated food can start to go bad after only four hours without power—and that's if you don't open the fridge. Frozen food can last only slightly longer. With a standby generator, your food is kept safe, and you don't have to worry about lines at stores to get replacement supplies.
During an extended outage, "camping" at home stops being "fun" quickly. The cost of a hotel room—if you can find one—is an expense you can avoid with a standby generator.
A generator that keeps your heat on can protect you from frozen and burst pipes, and repairs that can cost up to $10,000 or more in the worst-case situations.
With a whole-house generator, there's no longer the need to wrestle a portable generator out of the garage and get it set up in cases of emergency. This keeps everyone better protected, rather than having to deal with refueling, possibly in the dark or in treacherous conditions.
According to Consumer Reports, a properly installed whole-house generator can increase the value of your home by as much as 5%. That's a great return on your investment, even before you even need to use it.
A portable generator is less expensive out of the box, but it can cost you a lot more in the long run. Just keeping it full during an extended outage will add up quickly, not to mention potentially having to wait on long lines for more fuel. With a whole-home generator, Pico can keep your tank full without hassle thanks to our Keep-Full Delivery Program!
Automatic turn-on means you have peace of mind of knowing that your home and loved ones will be safe, even if you aren't home when the power goes out.
Looking to Install a Generator? Call Pico Propane and Fuels Today!
A power outage lasting any longer than an hour or two can quickly shift from inconvenience to crisis. A propane generator will keep your home and family safe, while saving you money and adding value to your home, too.
The professionals at Pico Propane and Fuels can help you from selecting the perfect model Generac generator, to installation, and fueling. We have the experience and training to connect the lines to a new or pre-existing propane tank, so it powers up your home without damaging your home's electronic equipment or appliances. And we can provide you with safe and reliable propane delivery for years to come.
Contact us today for more information.