Propane Tank Installations, Maintenance, and Leasing Across Texas & New Mexico
Need a new propane tank? Pico Propane and Fuels has decades of experience installing tanks from Weslaco, TX to Roswell, NM!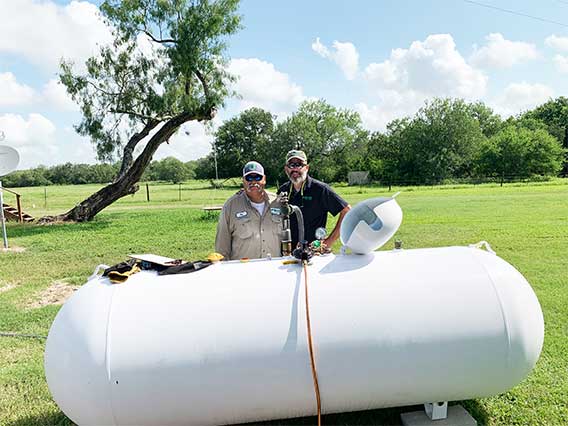 Have you purchased a new home that uses propane for heating or to power some appliances? Perhaps you are building a new home and want to use propane in it. Maybe you are adding more propane appliances and your current propane tank is too small for your new demand. Or maybe your propane tank has reached the end of its life.
If any of those apply to you, you'll be needing a new propane tank!
Pico Propane and Fuels can take care of everything when you need a propane tank for your home! We have the knowledge and experience to make sure that you get the right size of tank, and that it is installed safely in line with all applicable regulations. We provide propane tank leasing and tank monitoring for your peace of mind and we have the best, most dependable propane delivery around!
What size propane tank do I need for my home or local commercial business?
Here are the standard tank sizes, and what propane usage they suit best, so you'll have an idea of what you should get:
20- to 100-Pound Tanks

Smaller propane cylinders and tanks do a lot for you, at home and on the road! These size tanks can power your propane BBQ grill, outdoor fireplace or firepit, camp stove, insect trap, portable generator, and deck and patio heaters. In your RV, they can provide heat, water heating, gas for your stove, and power for refrigeration.

60-Gallon Tanks

These are used for small space heaters and other small propane appliances.

120-Gallon Tanks

Do you use propane for cooking, drying clothes, heating water, or for a propane fireplace? This may be the right size for you. However, it is not large enough if you'll be using propane to heat your home.

250-Gallon Tanks

This may be the size tank you need if you have three or more propane appliances such as water heaters, ranges, and clothes dryers. It's one of our most popular tank sizes available for small residential homes, however it may not be adequate whole-house heating of a large multi-story or multi-family residence.

320- to 500-Gallon Tanks

These tanks are used for large residential homes—perfect for whole home heating year 'round.

1,000-Gallon Tanks

While these are most commonly used in commercial and industrial applications, they are also used at large residential estates.
Should I lease my propane tank instead of buying it?
When you purchase your propane tank, you have to shell out potentially thousands of dollars to buy and install the tank. Then, because you own it, you are responsible for professional maintenance and repairs, and the expenses that go with those. But by leasing your propane tank from Pico Propane and Fuels, all of that work, hassle and expense is gone! We handle the installation, maintenance and repairs, which means you can be assured that your propane tank is safe and in good working order.