Propane Delivery in College Station, Texas
Pico Propane and Fuels provides safe, dependable delivery of propane to your local Texas home or business!
Looking for a propane provider? Pico Propane and Fuels is the propane delivery and service provider that residents of College Station and nearby communities know they can trust for reliability, quality work, and great prices all year long.
Pico Propane and Fuels:
2080 TX-21
Caldwell, TX 77836
979-272-9203
Hours:
Monday: 8 a.m. – 5 p.m.
Tuesday: 8 a.m. – 5 p.m.
Wednesday: 8 a.m. – 5 p.m.
Thursday: 8 a.m. – 5 p.m.
Friday: 8 a.m. – 5 p.m.
Saturday: Closed
Sunday: Closed
What propane services does Pico Propane and Fuels have to offer?
Pico Propane and Fuels provides local, reliable Propane Delivery to College Station and the surrounding areas near Caldwell, Texas! What's even better? We'll get you set up on our hassle-free Keep-Full automatic delivery plan, so you never have to worry about a propane runout again.
Customers love our Wireless Propane Tank Monitoring! With this service, our monitor is attached to your propane tank and keeps track of exactly how much propane is in your tank at all times. It then uses Wi-Fi and cellular technology to continually send that information directly to us!
Need a new Propane Tank installed at your home our business? We have the knowledge and experience to make sure that you get the right size of tank, and that it is installed safely in line with all applicable regulations.
Whether your business is large, small or somewhere in-between, we will provide you with top quality Commercial Propane Services perfectly tailored to your operational needs.
Pico has the expertise and experience to provide a Customized Commercial Cylinder Exchange Service to keep your forklift fleets running strong.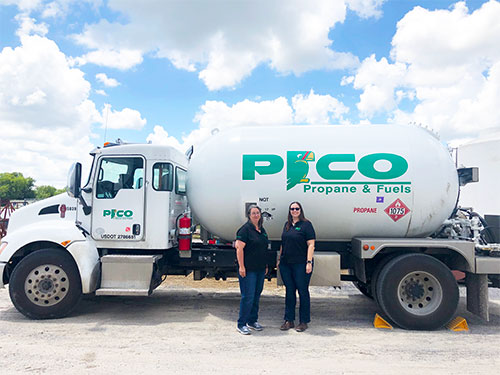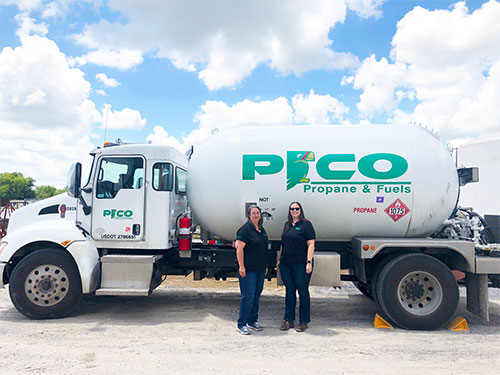 College Station, Texas—Home to Texas A&M and so much more!
Welcome to College Station – Home of Texas A&M University! When you visit here, you'll experience the vibrancy, tradition, and spirit that makes College Station such a special place.
Whether you're here with family and friends, looking for a date night or venturing alone, we've got something for everyone! Refined rustic meets Texas charm as you ready yourself in style and comfort for a day of exploring College Station.
Throw some axes at The Cut Axe Throwing, play laser tag, ice-skate, experience nightlife in Northgate, live music at Stage 12, sip some wine at Peach Creek Vineyards, and so much more.
Who are some notable alumni of Texas A&M?
Johnny Manziel: Manziel, in 2013, became the first freshman in NCAA Division-I football history to win the Heisman Trophy award.
Rick Perry: Perry served in President Donald Trump's cabinet as the United States Secretary of Energy and served as the 47th Governor of Texas from 2000 to 2015. At TAMU, Perry was a member of the Texas A&M Corps of Cadets in College Station and was one of A&M's five "yell leaders."
Von Miller: Considered one of the best edge-rushers in the NFL, Miller first opened eyes on Saturdays at Kyle Field. The outside linebacker recorded 33 sacks during his collegiate career, which ranks 5th in program history.
Deandre Jordan: The 6-foot-11, 265-pound player spent one season with the Aggies and averaged 7.9 points per game and 6.0 rebounds per game before the Los Angeles Clippers selected him in the second round (35th overall) of the 2008 NBA Draft.
Lyle Lovett: A four-time Grammy Award winner, Lovett has produced 13 country albums and 25 singles. His 2007 album, "It's Not Big It's Large," peaked at No. 2 on the Top Country Albums chart.
Kandace Krueger: Krueger won Miss USA in 2001 and is one of two Aggies to win the prestigious competition. She studied journalism at Texas A&M and has hosted her own TV show, "Today with Kandace," out of the Dallas area.
Locals love the reliable service of Pico Propane and Fuels!
"Great experience with the folks at Pico Propane in Caldwell today. Contacted the office in the morning. Joe, the regional manager took the time to explain my options with upsizing my tank. He had guys out there the same day swapping out my tank and filling it up. Virgil and Don did a great job. They worked together and they actually cared about doing the job right. They took the time to set the tank level, and replaced a damaged section of supply tubing to insure a leak free installation. It was great to do business with good people who were as professional as they were friendly. If you're looking for a propane supplier give Joe a call at Pico Propane in Caldwell. You won't be disappointed." – Trevor T.
"Pico did a great job at getting us set up with our tank and generator connection. We had excellent communication from Virgil, he was here when he said he would be, and took great care to install our equipment correctly as well as restore the area where he had to dig
Thanks for a top notch experience." – Donald S.
Get reliable propane delivery and service from Pico Propane and Fuels. Become a customer today and experience the difference we can make for your Texas area home or business.