Forklift Propane Cylinder Exchange Services for Texas & New Mexico Businesses
Let Pico Propane and Fuels fuel and supply your forklift fleet.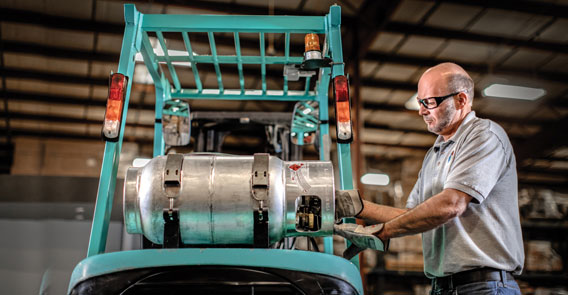 Does your business use forklifts? If so, it's one of many! Numerous local businesses in our area do as well, including:
Manufacturing
Warehouses
Distribution Centers
Retail & Grocery stores
Storage Facilities
Construction
Farms & Ranches
Whatever your business uses forklifts for, you can use them more efficiently and affordably by fueling your forklifts with propane gas
.
Pico Propane and Fuels has the expertise and experience to provide a custom forklift cylinder refill-and-exchange service. We'll discuss your business with you and learn how you use forklifts, then set up service so that you'll always have propane they need to run.
We provide bulk propane delivery with volume discounts, as well as safe, expert on-site propane tank installation. And we will make sure that you and your employees are thoroughly trained in all matters related to propane safety and the proper handling of cylinders.
Powering Cleaner, Greener Forklift Fleets!
How can your forklift fleet benefit from propane?
Propane forklifts burn more cleanly than their alternative counterparts, so they can be safely used both indoors and out. That comes in handy when you're moving material from trucks into your building or bringing it out.
Propane forklifts typical require less maintenance, which reduces downtime as well.
And best of all—refueling a propane forklift takes mere moments. All your employees have to do is replace the empty cylinder with a full one, and the forklift is back on the job! Your workers will be more efficient. Refueling with gasoline and diesel takes longer, and there is the risk of a spill. When an electric forklift is out of power, it's not getting any work done until it recharges, which can take eight hours or even longer.
Propane forklifts are more durable and have more power than electric forklifts on inclines. Unlike electric forklifts, they can operate outdoors in wet conditions.
Contact Pico Propane and Fuels to learn more about our propane forklift services.