Outdoor Living Appliance Sales, Service, and Installation in Texas and New Mexico
Pico Propane and Fuels can help enhance your backyard spaces with a great selection of grills, firepits, patio heaters, and more!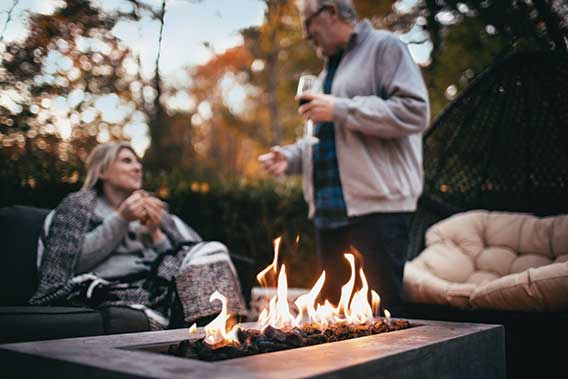 One of the great things about living in Texas or southeastern New Mexico is all the opportunities that there are for you to be outdoors.
And whether you're hosting a big cookout or just relaxing with the family, propane makes your backyard better!
Pico Propane and Fuels offers attractive propane outdoor living appliances that will turn your backyard into a gathering space everyone will love to visit. Not only do we sell these appliances, but you can use our propane cylinder exchange & refill stations so that you always have propane to keep the fun going!
Here's some of what we offer exclusively at our Bergheim showroom location:
Standalone & Built-in Grills
When it comes to fast, easy grilling with great results, propane has charcoal beat by a mile! You can have a weeknight dinner on the table using a propane grill before a charcoal grill is ready to go. And there's no messy ashes to deal with afterwards. Today's efficient, powerful propane grills can be customized with features like side burners, multiple grill levels, smoker boxes, and more.
Propane Firepits
Patio Heaters
Don't let a little nip in the air drive you indoors! With a propane patio heater, you can eat, relax and socialize out on your patio in warmth and comfort.
Propane and Outdoor Living Comfort—The Perfect Match!
Contact us today to get more info on our great selection of propane outdoor appliances.