Wireless Propane Tank Monitoring Services for Tanks Across Texas and New Mexico
Make monitoring your fuel levels hassle-free with a wireless tank monitor from Pico Propane and Fuels!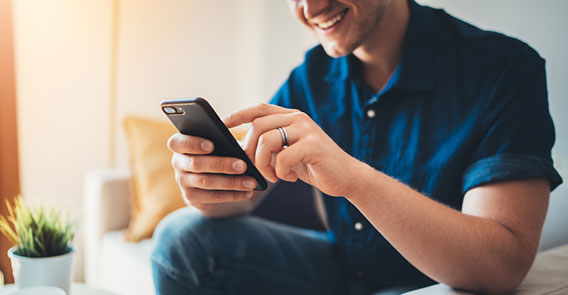 If you look at your propane statements over the course of a year, you'll likely notice that your propane usage can go up and down, depending on the season, what you use propane for, and if you have added new propane appliances to your home recently.
That may have you wondering about how exactly you can best make sure you always have the propane you need when you need it.
Firstly, with Keep-Full automatic propane delivery from Pico Propane and Fuels, you can stop watching your propane tank gauge levels. We'll monitor your usage alongside the real-time weather conditions and schedule a delivery to your home before you run low.
But sometimes your propane needs change. Perhaps you are using more propane because you have added a new appliance like a range, a water heater, a built-in grill or a fireplace. When your propane usage spikes like that, you may get nervous about running low on propane or, worse, running out entirely.
But with wireless propane tank monitoring, you can leave those worries behind!
What are the benefits of having a wireless propane tank monitor?
Here's how our wireless propane tank monitoring works: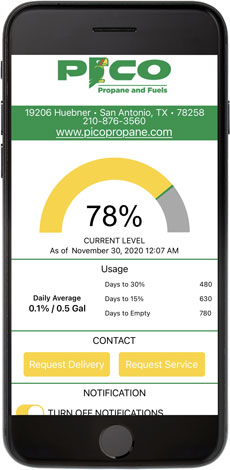 Our monitor is attached to your propane tank and keeps track of exactly how much propane is in your tank at all times. It then uses Wi-Fi and cellular technology to continually send that information directly to us. We always know your propane tank gauge levels, and so will you, thanks to a mobile app you can download right to your smartphone!
With the app—available at both the Apple Store and Google Play—not only can you check how much propane you have, you can make an order for a propane delivery. It's the ultimate in ease and convenience!
In addition to that, you'll benefit from:
Quick and Easy Installation: All equipment is installed outdoors, so it's completely contactless. You don't even need to be home!
Priority Scheduling: You'll be at the top of the delivery list, with no more worrying about will-call hassles!
These devices are great for first or second homes, and will take the headache out of managing your propane deliveries. Simplify your propane deliveries and get the ultimate in peace of mind with propane tank monitoring from Pico Propane and Fuels! Contact us to learn more about wireless propane tank monitors.