Are Propane Fireplaces Safe?
Written on: November 6, 2023
What You Need to Know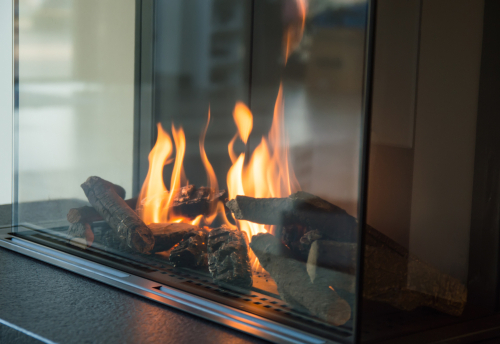 Who doesn't enjoy the charming warmth of a fireplace? Propane-fueled fireplaces add ambiance without the mess, smoke and ash of a wood-burning fireplace. But many people are surprised to learn that a gas fireplace is much safer. No more playing with matches and waiting for tricky kindling to catch—you can turn on and adjust the flame with a wall switch or even a remote control, and turn it off when you are done. No waiting for embers to burn out or worrying that they will flare up again.
Don't Believe the Buzz
There's been some buzz in the media about banning gas cooking ranges because of safety concerns. The concern is that they emit harmful pollutants such as carbon monoxide. But the fact is that burning anything will produce carbon monoxide and particulate matter. Another concern is about the amount of methane being released from natural gas sources indoors, in cooking stoves as well as gas fireplaces. This is particularly concerning because methane is an extremely potent greenhouse gas and makes up a vast majority of natural gas content. However, what the studies don't mention when they discuss gas cooking is that propane does not contain methane and is not a greenhouse gas!
Not only do propane fireplaces not produce methane, but depending on the type of propane fireplace you install, any particulate matter or other pollutants are minimal to virtually absent.
With direct venting propane fireplaces, a single dual-chambered pipe is installed directly through a wall to the outdoors. The pipe simultaneously draws air for the fire from the outdoors, while it expels the fire's combustion byproducts to the outside. Ventless models have a regulator that produces a fine gas-air mix that allows the gas to burn cleanly, and drastically reduces the fumes associated with traditional gas fireplaces.
Warmth and Style
From a design perspective, a propane fireplace can add dramatic style or more traditional charm, with a wide range of options to choose from. Propane fireplaces are available in a range of styles to work with any décor, from traditional to contemporary. We carry a wide selection of sizes and styles, from traditional stone and brick looks to contemporary glass boxes, and log sets in a range of configurations and looks, as well as glass.
They're also a wonderful source of supplemental heat, especially those times when you don't want or need to run your main heating system. Propane generates more Btus than an equivalent amount of electricity, so you need much less propane to produce the same amount of heat or energy. (And that's true for space heating as well as whole-house heating.)
An Affordable Upgrade
Whether you're looking to make upgrades for yourself or to add value for a potential sale, adding a propane fueled fireplace or stove is an easy and affordable option. Meanwhile, adding a traditional fireplace and chimney can cost many thousands of dollars—whether you're building from scratch or retrofitting an existing home with a masonry chimney and hearth. And, installation takes just a day!
To learn more about our available selection of propane fireplace and hearth products, contact us today!