How Propane Benefits Your Restaurant Kitchen
Written on: October 2, 2023
Think Propane Is Just for Grilling? Think Again!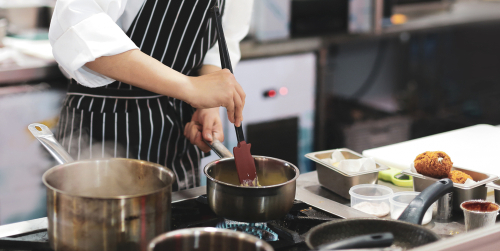 When it comes to cooking, propane is fast, precise, and efficient.
That's why most restaurants want the power and versatility of propane in the kitchen. And it's true, whether you're running an upscale restaurant, a casual diner, a food truck, or a catering business.
Professional chefs and cooks will tell you they need the precise temperature control and fast, consistent heat of propane so they can serve up a high volume of food without sacrificing quality. There's no waiting for burners to come to temperature. And propane allows for accurate, fast temperature control at the turn of a knob. That means the money you invest on fresh ingredients isn't wasted on over- or undercooked food.
But as an owner of a commercial cooking operation, do you know all the other benefits that propane offers that can make a big difference to your bottom line, and impress your customers, too? Here are three ways using propane in your restaurant that can have a big impact (that can make sense at home, too!).
1. Propane's Value
One key benefit of propane is the value it brings due to its versatility. Not only can restaurants use propane for grill tops and cooktop burners, but it's also used in a variety of commercial kitchen equipment. Using propane for your commercial kitchen appliances provides you with the sizzle your broiler requires to sear those delicious steaks and chops and flawlessly melt cheese. Not only do pizza ovens, steam tables, buffets, deep fryers and other appliances run on propane, but propane is an energy-efficient fuel for heating water for sinks and dishwashers. If you do some or all of your establishment's laundry on-site, it runs clothes washers and dryers, too.
Propane can also help boost revenue by helping you expand your outdoor service. Propane-powered patio and deck heaters, fire pits, and hearths add ambiance while giving warmth and comfort—and extending your outdoor dining season. Propane can also be used to operate outdoor lighting with a warm glow.
2. Propane is reliable
With a propane-powered kitchen and a propane standby generator, even the loss of electricity cannot close your doors. A propane standby generator will not only maintain power, but it will also keep your coolers, refrigerators and freezers running and preventing major loss of food. And of course, with Pico's dependable commercial propane service, you will always have a ready supply.
3. Propane is environmentally friendly
Customers are paying attention to your carbon footprint—paper straws instead of plastic or recyclable utensils and takeout containers—and they want to know you care as much as they do. That's why, when it comes to environmental impact, propane gas is a good choice. It burns cleanly and produces minimal emissions. Propane also doesn't harm soil or groundwater – an important factor when it comes to determining whether a fuel is "green." Propane is also made in the U.S.A. About 90% of the United States' supply of propane is domestically generated. Most of it comes from the processing of natural gas.
The Bottom Line
The restaurant business is very competitive. Pico's experts can help customize commercial gas services to help your restaurant serve up a great experience for your guests. Whether you're an arty bistro, a burger joint, or any other dining establishment, we'll work with you to find the right delivery schedule—and adjust it as your needs change. Have multiple locations? We can set you up with wireless tank monitors so you can even track your use across your chain.
Get in touch with us and find out how we can help your restaurant thrive.