How Long Will a 20 lb. Firepit Propane Tank Last?
Written on: May 15, 2023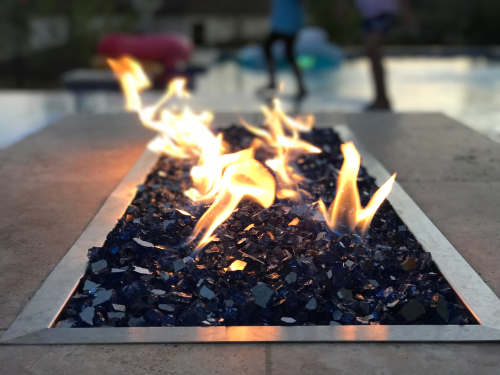 Late spring is perfect for spending evenings around the firepit with your best buds, the family or just a special someone. But you don't want the fire to fizzle out because you ran out of propane. So how long will a 20-pound propane tank last on your fire pit?
Of course, the answer depends on some variables—such as the Btus of your firepit. If you're looking to do a lot of arithmetic, there's a formula you can use, but unless you're a math whiz and enjoy plugging in for X and solving for Y, we can offer some solid rules of thumb.
The short answer is that the typical 50,000 Btu firepit will burn for about seven hours on a 20-pound cylinder.
For perspective, the same amount of propane will get you about 18 to 20 hours of grilling time.
How Much Propane do I Have?
So how do you know how much propane you have if you aren't starting from a full tank? Even though most of the portable cylinders that you'd hook up to your firepit don't have a gauge, there are easier ways to make sure you don't run out than pulling out a stopwatch every time you light the fire.
Here's three ways to make sure you never run out.
Weight Check: A 20-pound tank usually weighs about 17 pounds when empty (the "tare weight"). To calculate how much propane is in the tank, place the cylinder on a scale (a basic bathroom scale will work) and subtract the tare weight from the amount shown on the scale. So, if your 20-pound cylinder weighs 27 pounds, you have 10 pounds of propane or about half a tank. Or, pick up a digital propane tank scale at your local hardware store. Most come with a digital app to let you know when it's time for a fill-up. Have a different size tank? Check the cylinder for markings that let you know the "tare weight" or TW.
Add a Gauge: You can buy a gauge to install between the gas line from the grill and the cut-off valve on the tank. It will measure the pressure and show you how full the tank is.
Keep a Spare: The easiest way to make sure you always have enough propane on hand to fire up the grill is to keep an extra tank on hand. Refilling or exchanging your cylinder is a snap. All you need to do is bring your empty cylinders to one of Pico's convenient locations, including Weslaco and Mission, ideal for customers in Brooks, Jim Hogg, Starr, Zapata Cameron, Kenedy and Willacy Counties. Our propane professionals will properly and safely refill them, or exchange them for full ones that have been carefully inspected so that you can be sure they're safe.
Think Pico, Whether You're Grillin' Or Chillin'
Let the pros at Pico help you create a backyard oasis, perfect for grillin' and chillin' all season long. Stop by our showroom to see our broad selection of propane-fueled outdoor living products, including patio heaters, grills and more.
Make the most of spring and fall weather—and your outdoor spaces—contact the experts at Pico today.