Fuel Supply and Heating Equipment Sales, Repair, and Installation in Texas & New Mexico
Propane tank installations, home heating systems, heating appliances, wholesale fuel supply, and so much more!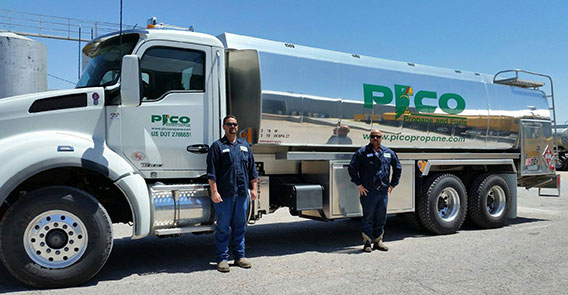 You probably know Pico Propane and Fuels as an outstanding propane delivery service for homes all the way from Albuquerque, NM, to Beaumont, TX in the Gulf Coast region.
But that is only the beginning of what we do!
Pico Propane and Fuels offers a wide range of fuel products to residences and businesses, as well as high-quality propane appliances for your home from leading manufacturers. Those appliances can not only make your home more energy-efficient, but they can also bring ample benefits like cooking on a gas range and having a generator for power outages or off-the-grid living.
We offer quality appliances from brands like Rinnai®, Generac, Empire, and more!
What else do we have to offer? With Pico, you get all this and more:
We're a one-stop shop for all your refined fuel needs.
Do you need gasoline, ethanol blends or other blended fuels, or biodiesels for your vehicle or equipment fleets? We can put our dependable fuel delivery to work for you! We also sell aviation fuel, hydraulic oils, motor oils, grease, and synthetic and food-grade oils.
All of our sales and technical staff members are fully trained in assessing your equipment needs based upon your specific needs. We are all also well informed about today's best equipment—and any current manufacturer or company discounts available. Upon narrowing down your choices to what best suits your needs and budget, we can also help you look into any financing you might need.
Whatever equipment or fuel product you need, you also get the outstanding, responsive service that Pico Propane and Fuels is known for from requesting a quote, to overseeing installation, future service and far beyond!
Ready to learn more about Pico Propane and Fuels products and equipment? Get in touch with us today.